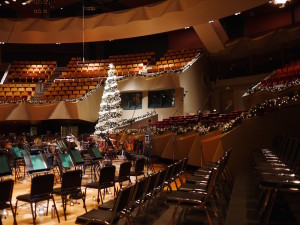 With the Colorado Symphony Chorus.
March 2022
Currently we're rehearsing Mahler 2, Beethoven 9, and program of all choral pieces, for a May concert. In October 2021, I sang with Andrea Bocelli for over 10,000 people at Ball Arena in Denver. Someday perhaps I'll fill in the intervening years. The story will include The Flaming Lips and Josh Groban and The New York Philharmonic and the Pirates of Penzance.  Covid took its toll on singing the past two years.
Fall 2021
We sang A Colorado Christmas for the first time in two years, 5 concerts in December. Sang Andrea Bocelli in October. Recorded Gary Frye Christmas music in September.
July 18, 2016
It's been quite an 18 day-day stretch singing in the Colorado Symphony Chorus. On June 29, we performed "Carmina Burana" with the Dallas Symphony in Vail. Then, off to Europe for 11 days, with performances of the Faure Requiem (plus Handel, Beethoven, Franck, and world premiers by Wolfe and Frye) in Paris, Strasbourg, and Munich. Then last night again at Vail, this time performing Mahler's "Resurrection Symphony" with the Philadelphia Orchestra, under Yannik Nezet-Seguin. Nezet-Seguin is a treasure, my favorite of all conductors to have sung under; I hope his dual appointment as director of both Philadelphia and the Metropolitan Opera doesn't burn him out. I've sung Mahler 2 several times; this performance might win. Eight minute standing ovation. Pictures from yesterday morning at the Ford Amphitheater in Vail, looking out from the stage and looking down on the stage. The chorus is resting for a month, then off to the Aspen Festival. I think back to high school chorus with Miss Eggleston in DeWitt. Hard to imagine that I'd have found myself here, 40 years later.
June 20, 2016
Upcoming are Orff's Carmina Burana June 28 with the Dallas Symphony at the Vail Festival.
Later this summer, we're doing Mahler's 2nd Symphony, "Resurrection," with the Philadelphia Orchestra, also at the Vail Festival. In August at the Aspen Festival, it's Carmina Burana again.
In the middle of it all is a European concert tour to Paris, Munich, and Strasbourg, highlighted by the Faure' Requiem.
Exotic summer for singing, then, from the profane to the sublime.
It would have been even more exotic if I'd had time to join chorus members who sang backup to The Flaming Lips when that group performed with the symphony at Red Rocks, in May.
March 15, 2016
On March 11, 2016, the chorus sang a concert of Shakespeare lyrics set to music. Among the pieces, was a 16-member a cappella piece that I sang, a contemporary setting by Gary Frey of Puck's "If We Shadows Have Offended" speech at the end of Midsummer Night's Dream.