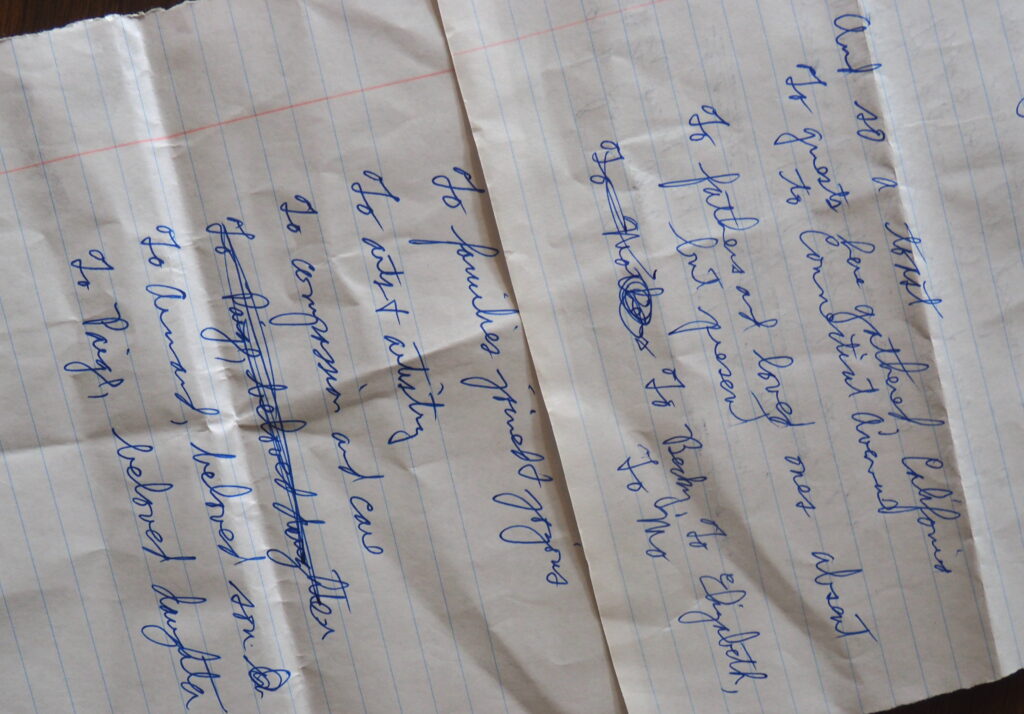 Paige and Armand
September 24, 2021 | Audubon Sanctuary | Chevy Chase, Maryland
My heartfelt greetings to all here gathered.
In a more perfect world, I wouldn't be giving this toast. That profound delight would fall to Paige's father, Tim, whose love for her was clear and boundless.  Tim's spirit is here today, and he rejoices.
When Paige came into my life through Becky—and into Monica and Andrew's lives, too—she was was five or six, inquisitive and passionate. Her characteristic move was to come up forehead to forehead and look into my eyes. It was impish but also implied, "I'm committed. Are you?" I'll demonstrate.
Paige was and always has been deeply empathetic and artistic. I remember endless living room costume dramas. They started in rehearsed scripts but morphed into improv. I'll confess sometimes slipping out before curtain.
Paige is also fiercely independent and resilient. She moved alone, carless, to LA, taking the bus from Koreatown at three AM to one radio job, commuting to Pasadena and KPCC for another. There she met Ashly and, of course, Armand.
Our family's first meeting with Armand is legendary. We were renting a house off Franklin Avenue over Thanksgiving. Armand peddled up on his bike with a 20-pound turkey in his backpack and pots in his panniers. It was a bold move.
Every Thanksgiving we've spent with him since then has featured Armand's day-after gumbo, the divine mysteries and ministrations of the dark roux. I've come to appreciate his interest in Soviet history and art. Who else owns a Nikita Kruschev nested doll?
Together, Paige and Armand have the capacity to find deep interest and care in everything, large or small, including each other. They're a perfect match.
And so a toast.
To guests here gathered, California to Connecticut Avenue.
To fathers and loved ones absent but present.
To Becky, to Elizabeth, to Mo.
To families joined and joyous.
To arts and artistry.
To compassion and care.
To Armand, beloved son.
To Paige, beloved daughter!