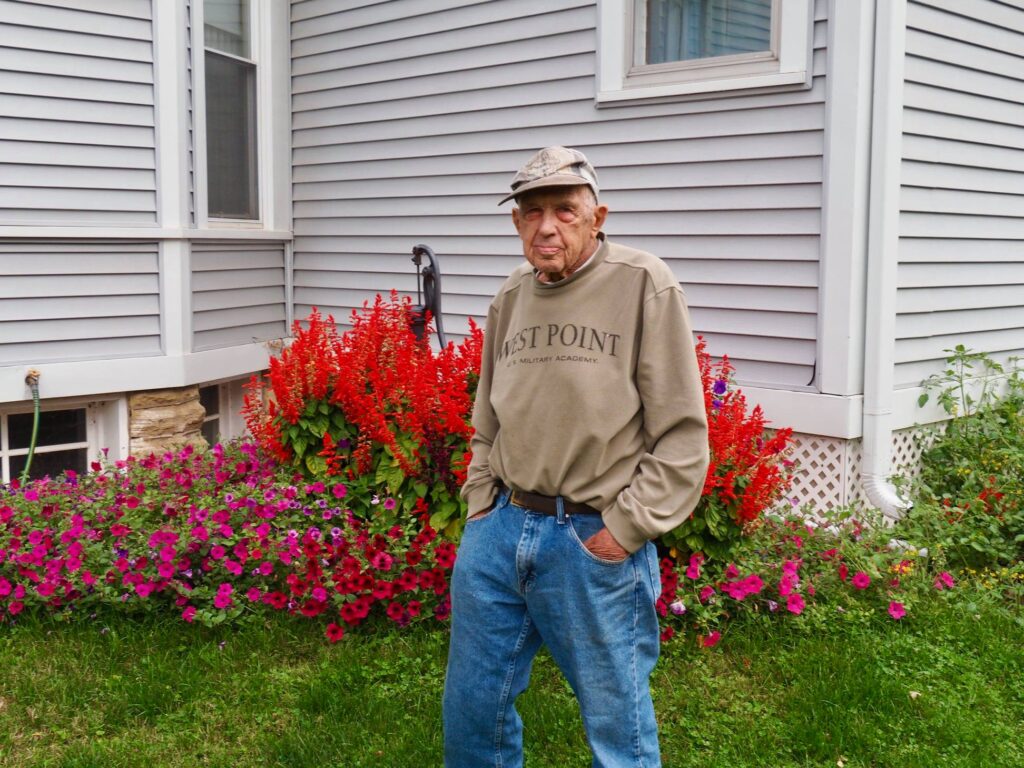 Donald Glenn Hesse passed away quietly in the presence of family on September 24, 2021, at Maggie's House in DeWitt. He was the loving, devoted husband of Coral Krukow Hesse, a caring father, a self-made businessman, an accomplished outdoorsman, and a wry storyteller.
Don was born in Donahue, Iowa, on September 5, 1930, to Gladys Gertrude (Holcomb) and John Willis Hesse. His father was killed in an accident on Christmas when Don was eight, leaving him a child of a single mother until many years later, when she married Bill Gribbon. During the Great Depression, he lived with families on farms across Clinton and Scott counties, doing chores and attending various schools, developing the kind of stoic resilience that became a hallmark of his life. He graduated from DeWitt High School.
Don served as a combat engineer on the front lines of the Korean War, running heavy equipment that helped establish beachheads, bridge rivers, and open mountain passes. Until his later years, he spoke of his military service with great reluctance. He had been the longest continuous living member of the DeWitt American Legion.
On September 14, 1955, a Wednesday night, he married Coral Ardis Krukow, the love of his life, at Grace Lutheran Church.  They were married 65 years until Coral passed away in October 2020. Don and Coral enjoyed going out to dinner, taking long drives, having picnics, participating in church activities, serving the Central Community Historical Society, and following Iowa sports.  They devoted vast energies to their children and grandchildren, faithfully attending any child's event–large or small–within driving distance, phoning or writing if circumstances prevented..  They kept a trim Victorian house on 6th Avenue, where Don planted extensive flower beds of red Salvia. In later years they valued neighbors Jim and Sue Foote. 
After maintaining roads for Scott County, Don established Hesse Oil Company in the late 1950s, delivering fuels to farms, homes, and businesses, sponsoring a bowling team by that name. In the 1960s, he opened a small bait shop in DeWitt and worked night shifts at Caterpillar. In the 1970s he and partner Fred Behr created B&H Sanitary Service, picking up trash in DeWitt, rain or cold, sickness or injury, until his retirement in 1995.
During many of those years, he was a member of the DeWitt Volunteer Fire Department, where he served as Chief.
To say that Don was an avid fisherman is to say the sun rises and sets. For many years, his garage featured a dedicated blender for mixing catfish bait and a refrigerator for storing it. Every week would find him on the Wapsi or Cedar Rivers in his custom flatbottom boat, joined by a succession of fishing partners and close friends, most notably Gabby Fletcher, Ray Cole, and John Camp. In earlier years, he trapped and hunted, including as a member of the Teal Club. His euchre skills were unsurpassed.
Don was a man of quiet, pragmatic, effective action rather than words, although his word was his bond, and personal integrity and self-sufficiency were his heartfelt values.
He is survived by six children: Doug (Becky) of Denver, Colorado; Joellyn (John) McDonnell, of DeWitt; Susan (Terry Frahm) Hesse, of DeWitt; Kathleen (Rick) Miller, of Leander, Texas; Barbara (Doug) Range of Lilburn, Georgia; and John of Cumming, Georgia. He is further survived by 17 grandchildren, Monica (Rob Cox) Hesse, Andrew (Molly) Hesse, Paige (Armand Emamdjomeh) Osburn, Shannon (Phil) Schroetter, Josh (Nicole) McDonnell, Jason (Sarah) McDonnell, Adam (Jill) McDonnell, Sean Hunter, Katie (Ryan) Rebers, Austin (Jessica Miller), Courtney (Dusty) Lozano, Nathan Hesse, Jade (James) Helm, Jacob Range, Jenna Range, Jared Hesse, Justin Hesse, and 14 great-grandchildren. His stories and values live through them.
Visitation will be from 2:00 p.m. until the service time of 3:00 p.m. Saturday, October 2, 2021, at Grace Lutheran Church, DeWitt, The Rev. Eric Obermann officiating. Burial will follow at Elmwood Cemetery, DeWitt.
Memorials may be sent to Kids Fishing Foundation, Honor Flight of the Quad Cities, or the DeWitt Fire Department.